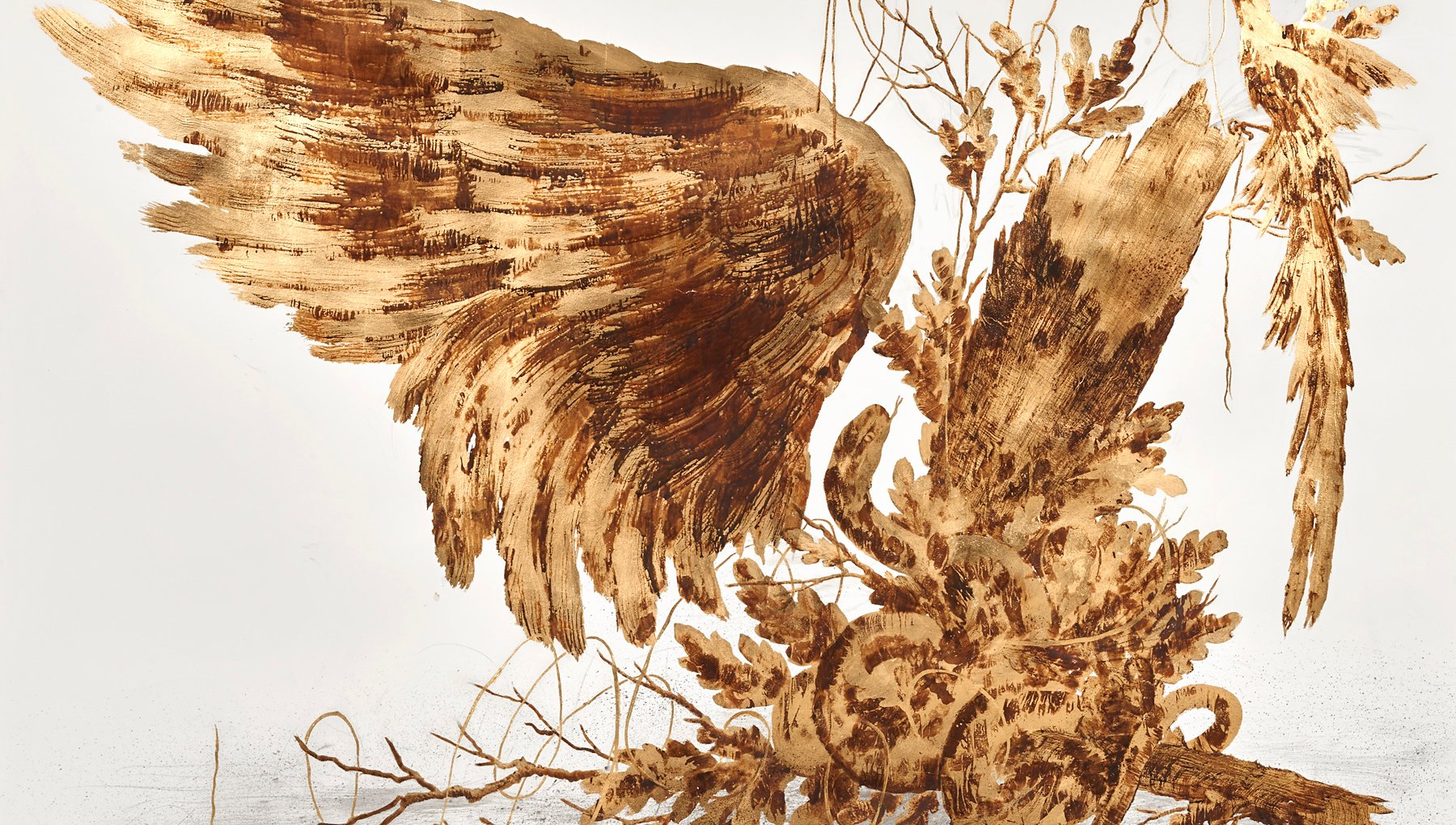 Championing outstanding mid-career artists since 2016
We have closed our
little gallery and are now online only.
We are thrilled to present Sarah A. Smith whose work has long stood out for its baroque beauty and powerful depictions of the natural world. Her art incorporates mythology and iconography to create opulent pieces that comment on today's economic and social climate. Inspired by her background as a scenic and decorative painter, she has developed a secret technique to paint with metal leaf she then meticulously patinas to create rich dimension and depth. Stunning, smart, and often just a little bit sinister, Smith's art adds beautifully to both classical and contemporary collections.
Sarah A. Smith has had two solo exhibitions at ampersand international arts, in 2004 and 2007. She was commissioned to create new work for the SFAC Grove Street Windows gallery in 2015. Her drawings and installations have been included in many Bay Area institutions and galleries, notably, The de Saisset Museum, Kala Art Institute, The Palo Alto Arts Center and Root Division. In 2006 she had a solo show at Southern Exposure and was awarded a residency at The Headlands Center for the Arts, Project Space. Her works are in many private collections including The Battery, San Francisco and 21c, Louisville, KY.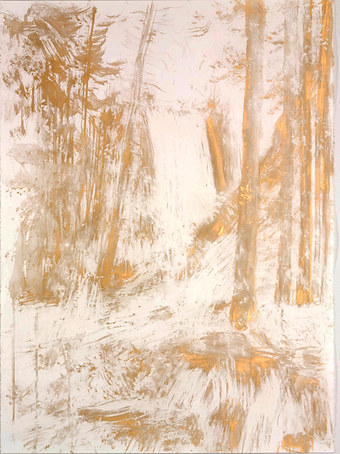 Yosemite in Gold
ink on paper 30" x 22.75, 2016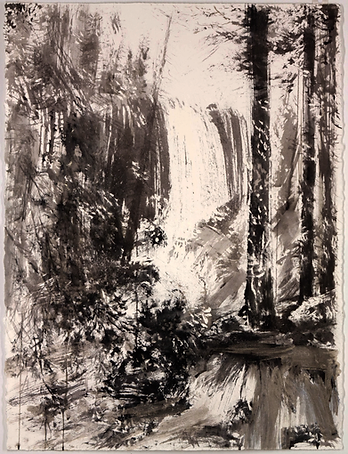 Yosemite in Gray
ink on paper 30" x 22.75, 2016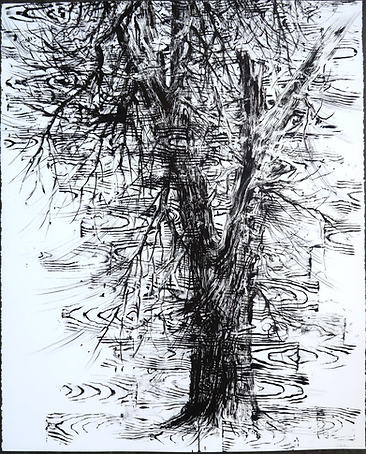 Oscillating Tree 3
Sumi ink and block printing ink on paper 47.5" x 38", 2016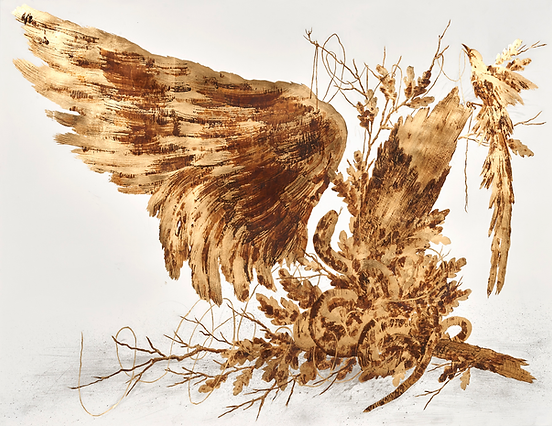 Resurrection Snake/Bird of Paradise
gold metal leaf, corrosive, ink and pencil on paper 38" x 50", 2016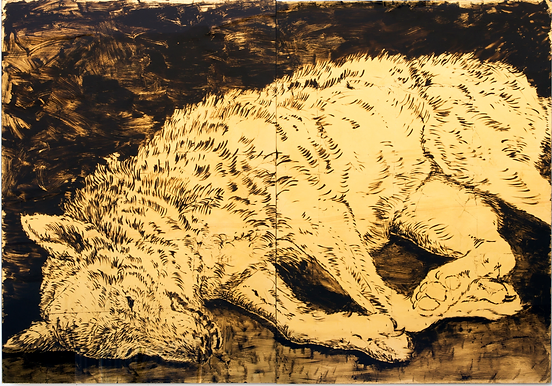 Dead Wolf/Self-Reflection (after Jan
oil paint on with gold metal leaf on 2 panels 24" x 36", 2017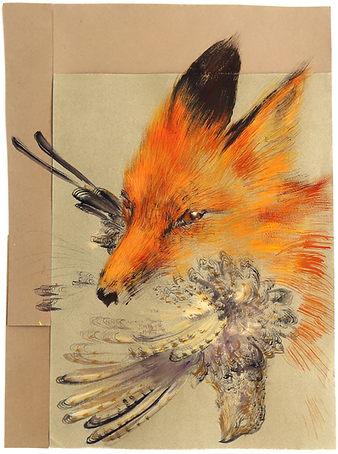 Fox With Prairie Chicken
ink on joined paper 15"x11", 2016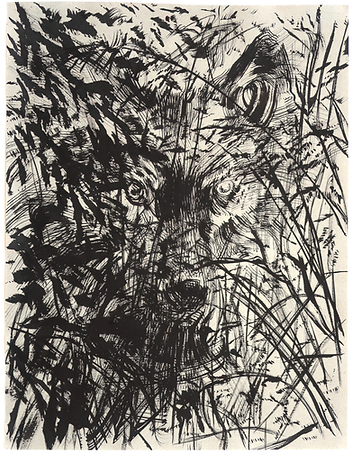 Eyes Through Branches
Sumi ink on paper 11.5" x 9", 2016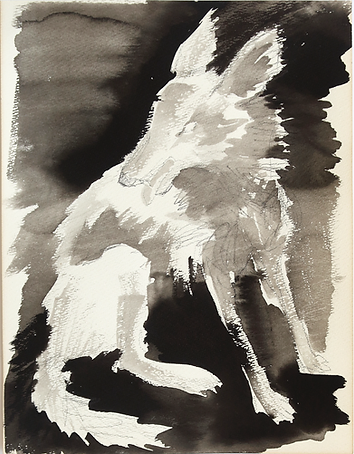 Wolf (Sketch)
ink and pencil on paper 11.75" x 9", 2016